News Story Links
Press release, John Huckabay receives 2021 Distinguished Civilian Award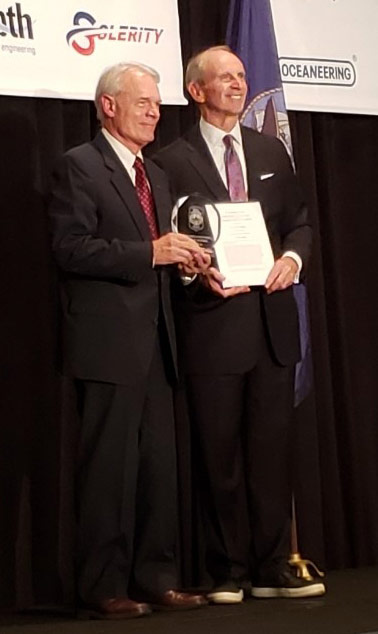 Dr. John Huckabay, former director of the Advanced Technology Laboratory (ATL) at Applied Research Laboratories, The University of Texas (ARL:UT), has been awarded the 2021 Distinguished Civilian Award from the Naval Submarine League. The highly selective award recognizes his distinguished career of providing exceptional support for the submarine community through technology, and innovations for our nation's naval sonar systems.
In accepting the award in November, Huckabay cited his unique experiences in research, engineering, systems delivery, and testing at sea. There is nothing better than delivering a new capability and not only seeing it work, but seeing that the boat now knows they can do things they couldn't do before.
Through this award, the Naval Submarine League honors individuals whose contributions and breakthroughs have been of extraordinary value to the success of U.S. Navy submarine programs. As a researcher and leader of ATL from 1981-2015, Dr. Huckabay and the team of like-minded technologists he assembled developed an extensive list of mission critical sonar systems that are in daily use on submarines, underwater vehicles and surface ships in a variety of Navy missions. He has also led the development of high-resolution sonars for swimmer detection and classification, mine neutralization, underwater imaging, naval mine mechanisms, and various explosive ordinance disposal (EOD) applications. Dr. Huckabay has participated in numerous Navy policy and technology committees, providing research-oriented perspective to those planning and executing future submarine systems.
As great power competition escalates, submarines must lead," Huckabay explained. "I go to sleep every night knowing that the systems, techniques, and processing that we have developed save lives and make the U.S. submarine force the most capable and lethal fighting force in the world." He added, "Just as I know our adversaries lay awake at night wondering what our capabilities are, why they can't find us, and what the hell we're doing.
Congratulations to Dr. Huckabay for this exceptional and well-deserved recognition as an asset to the defense of the United States.